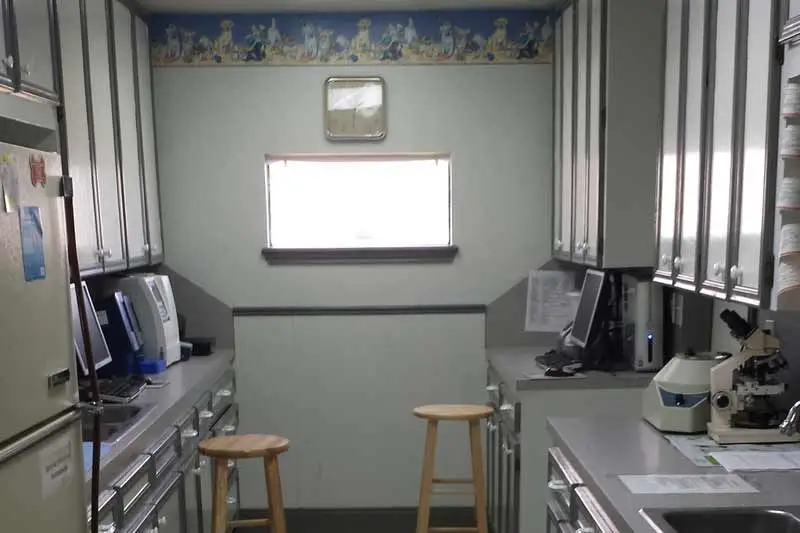 Angleton Veterinary Clinic is equipped with up to date equipment that allows us to provide fast and accurate diagnostics. We can perform many different tests onsite, including, but not limited to:
Heartworm
Parvovirus
Feline leukemia and feline AIDS
Complete blood count (screens for infection, anemia, inflammation)
General chemistry (screens for kidney, Liver, electrolyte, and pancreatic abnormalities)
Pre-anesthetic
Blood clotting
Thyroid
Progesterone
Urinalysis
Cytology (microscopic evaluation of cells from skin, ears, reproductive tract, cysts, etc.)
Cultures for ringworm
Intestinal parasite screening
Angleton Veterinary Clinic also performs:
Diagnostic ultrasound
Pregnancy ultrasound
Dental X-rays
Diagnostic X-rays
OFA X-rays for hips and elbows
BAER hearing tests
We are proud to have an in-house pharmacy for your convenience. We carry several products for heartworm prevention and flea/tick control, as well as most medications your pet may need to treat infections and other disorders. We carry a full line of prescription diets as well.
Dr. Clark will be happy to provide a prescription for any medication she prescribes on request. Our staff is here to provide your pet with quality service and to insure your pet gets to its healthiest state in his or her life.
OFA Website links: