Veterinarians
Dr. Sherry D. (Dodson) Clark
Chief of Staff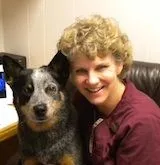 Dr. Sherry D. (Dodson) Clark grew up around animals. During her youth, she was active in 4H, FFA, and showing horses as well as working in a pet shop through high school. After graduating from Greenville High School (Greenville, TX), she then earned her Bachelor of Science in Animal Science and her Doctor of Veterinary Medicine degrees from Texas A & M University. The Texas Veterinary Medical Association named her its 1998 Recent Graduate of the Year.
Her professional memberships include:
Harris County Veterinary Medical Association, Past President
Rotary Club of Angleton, Past President, with more than 17 years of perfect attendance
Texas Academy of Veterinary Practice
Texas Veterinary Medical Association
Dr. (Dodson) Clark has worked extensively with the Interact Club of Angleton High School through her Rotary Club. Dr. Dodson is also a member of the Greater Angleton Chamber of Commerce. She currently serves on the Board of Directors of the Texas Veterinary Medical Association as a district director. Doc Sherry is an active member of the First United Methodist Church of Angleton. Multi-faceted (and daring!) as well as intellectually flexible, she retired from competitive skydiving after a decade, with more than 3,700 skydives! Not content with mere overland pursuits, Doc Sherry is also a certified SCUBA diver!
She shares her home with her Australian Cattle Dogs and a Silky Terrier as well as her beloved cats. Doc Sherry's dogs range in age from her 10 year old Australian Cattle Dog Mo down to her 5 year old Cattle Dog, Aggie (a daughter of Mo). All of her Cattle Dogs compete in at least one type of performance event. Her dogs have earned titles in events including Rally, Obedience, Herding and Conformation. Mo, her oldest Australian Cattle Dog, has been as far as New York City to compete in the Westminster Dog Show where he won an Award of Merit! She is proudest of the herding titles she and her dogs have completed.
Needless to say she spends a lot of time in training classes with her dogs! In her private time, Dr. Clark enjoys spending time with her husband Benny and her extended family. She also enjoys reading, gardening and watching football and the Astros.
Dr. Kristen Jacobs
Associate Veterinarian
Dr. Jacobs got her undergraduate degree in Biomedical Sciences from Texas A&M in 2017. She then went on to complete her veterinary schooling at Ross University on the island of St. Kitts, where she graduated with honors. She came back to finish up her clinical rotations at LSU to earn her Doctorate of Veterinary Medicine. She loves working with dogs, cats, and exotic pets!


When at home, she and her fiancé, Nathan, like to play with their two cats, Chloe and Marlie, their lab mix Belle, and her Kakariki bird Riki! In her down time, Dr. J enjoys cooking a good meal, bingeing the latest Netflix series, or traveling wherever she can go (especially if there is a beach involved)!